MLM Software News!
October 7, 2009
INS Auto-Prospecting System Omsys has been significantly enhanced to benefit both MLM Users as well as Small and Medium Business users even more.
Now a single license can have multiple users involved allowing Small Business's to collaborate between their sales teams on sales leads. Networkers can also share a license in close knit groups to tag team leads!
Leads can be assigned to sub users, and lead notifications automatically go to the Master User as well as the Sub User the lead is assigned to. Transferring of a lead also generates an email to let the person receiving the lead know they have a new lead.
Finally, you can log into your Omsys Auto-Prospecting System right from the New Lead notification email with a simple password entry. Perfect for easy access from your iPhone, Blackberry, Windows Mobile, or any other smart phone. No longer do you need to log in and navigate around to a contact within a Smartphone browser.
A very handy company feature has been added so when you do have multiple leads with a single company, you can now easily have those leads all pulled up by a company association.
The new Auto-Prospecting System enhancements make the portability of the Omsys Auto-Prospecting System next to none.
Take your prospecting on the road!
August 27, 2009
INS Officially started supporting Authorize.net as its official MLM Merchant Account and Gateway provider.
After watching client after client have issues with all types of agents and middlemen when it comes to MLM Merchant Accounts and MLM credit card Gateways, INS has decided to support whole heartedly the only company that seems to consistently work with MLM companies, and not institute so many rules and strange things as to make it impossible to succeed.
Do you need an MLM Credit Card Gateway or MLM Merchant Account so you can do Visa and MasterCard processing? Do you need a backup plan for a minimal limit imposed on you by another provider?
Submit an Application today Click the Link Below:
September 11, 2009
INS partners Dennis Wilson and Rick Jewson attend the Sold out Microsoft event Teched Australia 2009. 4 days of intensive sessions from overviews of new Software technologies to industry direction, to mobile application marketplace and development.
Amazing how fast the world changes and in fact it seems that .NET may no longer be the direction of the Microsoft development world, but rather a return to ASP classic like technologies that more suit the dynamic internet environment that currently defines the WEB 3.0 world.
INS will now add Microsoft Mobile and Microsoft Phone application development to its new division of Mobile Applications for SmartPhones
---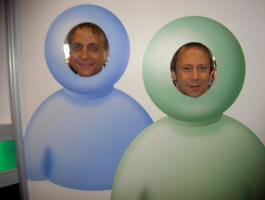 ---
August 10, 2009
Ins Introduces a New Web 3.0 Look and Feel in both Admin and Members areas! Where as always our Clients have complete control over the overall Look and Feel of their website, we have now updated the Internal Page Navigation Look and Feel as well as added a Dashboard to Admin for the Vital Stats on your company to be put front and center.
Coming Very soon in addition to our Quote of the Day Function, is a FaceBook Style NewsFeed in the members lounge to update your member on new signups, new advancements, Failed Autoship Payments, and anything else we can think of being
Admin Interface
(click for Full Size)
Members Back-Office Interface
(click for Full Size)
August 2, 2009
INS Embarks on iPhone Applications. We intend to create an IPhone, Blackberry, Windows Mobile, and possibly even Android interface into both the Members area of the MLM Software Back Office and our Omsys Auto-Prospecting System.
July 4, 2009
We can't believe we scored this! Facebook created the ability to have a Username associated to your Facebook Account. INS MLM Software Partner managed to grab http://www.facebook.com/mlmsoftware as their Facebook Property!
Jun 7, 2009
INS comes alive on Twitter! http://twitter.com/1mlmsoftware is our MLM Software related Twitter Feed.